Description
Victron MultiPlus 230-volt AC, 12-volt 3,000-VA inverter charger with 120-amp battery charging and 50-amp AC transfer capability compatible with all batteries including Lithium.
The MultiPlus is an inverter and charger combination supporting easy installation by way of the Victron MK3-USB interface cable, including the following features: 
True sine wave inverter
Adaptive charging
Hybrid PowerAssist
PowerControl
Multiple system integration
The PowerAssist feature will enable the unit to supplement the alternative source. The unit will compensate supply from the battery at times of insufficient power and when no longer required, the excess power will be used for charging. It is therefore no longer necessary to size a generator on the maximum peak load. Use the most efficient size generator instead.
The advanced 'adaptive charge' software fine-tunes the three-stage automatic process to suit the battery condition and how the battery is being used, preventing damage and ensuring less maintenance is required. A fourth stage charge [also called the Storage mode] delivers a longer period of float charging. In addition, the Multiplus will charge a second battery using an independent trickle charge output.
Should there be a grid failure the UPS capability of the inverter is automatically activated. With some units having the ability to enable 6 Multis operating in parallel there is potentially close to uninterrupted and unlimited power.
If three phase power is required, then multiple units can be connected in parallel and configured with the combinations delivering up to 75KW/90 kVA inverter and more than 2000 Amps charging capacity.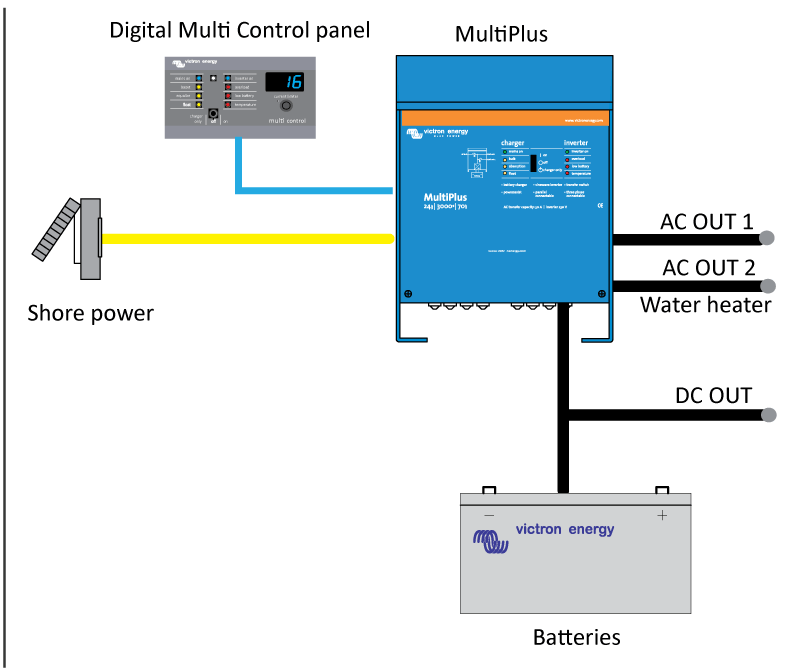 Configuring parallel and three-phase systems is made simple with the VEConfigure software tool which allows the installer to put components together without any hardware changes or dipswitches, using standard products.
Monitoring and configuring functionality offers seamless control, both on-site and off-site.
Unit Weight: 21.7kg
Battery Charger Size:  120 Amp
Battery Voltage:    12 Volt
Change over Switch: 
   50 Amp
______________________________________________________________________
Payment & Security
Your payment information is processed securely. We do not store credit card details nor have access to your credit card information.