Description
The 500A SmartShunt IP65 is an all-in-one battery monitor, only without a display. Your phone acts as a display. The SmartShunt connects via Bluetooth to the VictronConnect app on your phone (or tablet) and you can conveniently read out all monitored battery parameters, like state of charge, time to go, historical information and much more. Alternatively, the SmartShunt can be connected and read by a GX device. Connection to the SmartShunt is made via a VE.Direct cable.
The SmartShunt is a good alternative for a BMV battery monitor, especially for systems where battery monitoring is needed but where less wiring and clutter is wanted.
The SmartShunt is equipped with Bluetooth, a VE.Direct port and a secondary connection that can be used for monitoring a second battery, midpoint monitoring or a temperature sensor.
With its IP65 Water Resistant rating, the SmartShunt is more ideal for areas prone to receiving an ingress of water such as an engine bay in a 4WD that does creek crossings, or in a marine environment where the battery area is relatively exposed to the elements.
 
Monitored Battery Parameters include:
Battery State-of-Charge (SoC)
Voltage of up to 2 batteries
Current Load
Time to go
Extensive historical information
... and much more
Auxiliary Input Options:
The SmartShunt can do more than comprehensively monitor your main battery bank - additionally, you can choose to either:
Monitor the voltage of a second battery, for exmaple the starter battery or;
Connect a temperature sensor (optional accessory) for temperature compensated charging or;
Monitor the midpoint voltage of your battery bank (cable included) to keep an eye on battery health.
Connection to any Victron GX Device
The SmartShunt also features a VE.Direct port so can also be connected to any device in the GX range including the Colour Controller and Cerbo GX via a VE.Direct cable.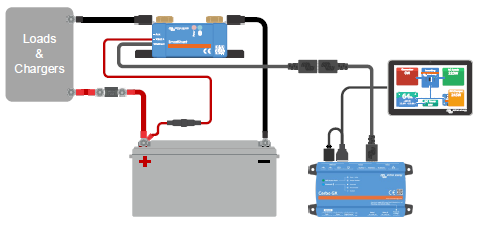 Payment & Security
Your payment information is processed securely. We do not store credit card details nor have access to your credit card information.